The SUPERSOIL 2SPEED POWERSHIFT is the newest version of the acclaimed forestry tiller and stone crusher. It is able to crush stones up to 50 cm in diameter, grind big stumps and till the soil up to 30 cm deep in the ground. It is used for land preparation for agriculture, to improve land by crushing rocks or by eliminating stumps from former plantations.
With the new 2SPEED POWERSHIFT technology this machine expands its range of application: from being a tiller-crusher suitable to work in ground only, the machine now also becomes a fully operational forestry mulcher able to work above ground. In the second faster gear of the rotor the machine is able to mulch big stumps, brush and any kind of vegetation efficiently to small size. Land preparation becomes even easier, with a perfect result.
The Seppi M. 2SPEED POWERSHIFT system enables the operator to change speed of the implement without changing speed of the PTO on the tractor and without leaving the cabin of the tractor. This is possible thanks to a patented central gearbox that incorporates a special hydraulically activated friction clutch.
The Seppi M. 2SPEED POWERSHIFT gives the operator the ability to change speed with the push of a button on a touch screen, right from the terminal on the armrest of the operator. This way the operator can change mode of operation of the implement from low speed to high speed in a glimpse.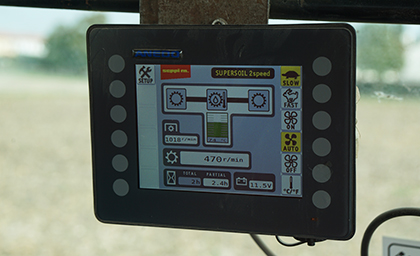 The result is that the operator can change speed whenever he thinks it is necessary any time during the operation, and therefore react immediately on changing field conditions. This makes the machine work always in the best setting, which improves result, reduces power consumption and increases working speed.
One machine can be used for multiple jobs on the same work site, where traditionally two or more machines would be needed. The need to travel to the work sites with several machines, a cost factor that is important for agricultural contractors, is eliminated.
You want even more productivity? Now you can choose the best from 3 types of V-LOCK tools:

ULTRA MONO PROTECT – universal for stone crushing, soil stabilization, forestry tilling and forestry mulching

ULTRA TIP – perfect for mulching of big stumps up to 80 cm [30"] and more in diameter, able to work as a tiller soil stabilizer in presence of soft rock.

ULTRA PICK – ideal for soil stabilization in rocky ground and grinding asphalt with layer thickness up to 8cm [3"] and more (Attention: only suitable for low speed)
If you are running forestry mulchers, forestry tillers, stone crushers or soil stabilizers, now is the time to shift to the next gear! Call us or connect with us through our website to learn about demonstrations near you!