The first range of machines takes the stage flaunting its new look! The use of red in the range of traditionally yellow hydraulic drive machines adds a touch of style, and the new stickers serve not only to decorate, but also to inform. Identifying them as SEPPI M. branded products will now be even easier, further enhancing the value of your precious machinery.
Here's how the new machines will look:
The base is still yellow, but the belt protection on the side of the machine now reflects the traditional SEPPI M. colour - red RAL 3020.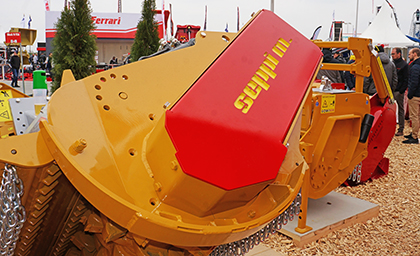 Stickers with integrated technical highlights on each machine.
Which machines can we expect to see in these new colours first?
This detail is currently applied to the range of hydraulic mulching heads for excavators.
What do you think? We value your feedback