Seppi launches a new model specifically for mulching vegetation along riverbanks and roadsides
The new L9 flex was developed to meet changing market demand. Its new design renders it possible to clear wide ditches efficiently, whilst improving safety for machine and operator.
Large load mulcher for professional use
The model L9 flex is a powerful and reliable offsetting mulcher for large areas suitable for tractors from 100 to 180 HP.
The L9 flex model boasts a particularly stable construction. Through a PENTALINK system, with 2 additional torsion arms, the implement is connected to the tractor's axle and improves its stability.
The mulcher features an extended range hydraulic side shift to the right of the tractor and ensures that the tractor can ride at a safe distance from the verge. The mulcher can be tilted using a hydraulic system and can reach a 90° above horizontal level and 60° below horizontal level . A characteristic making the mulcher perfect for working on slopes, facilitating access to all types of sloping terrains. The FLEX-SAFE anti-collision system prevents accidents and gives the operator time to react.
The triple HELIX rotor, with balanced rotor load, guarantees particularly silent operatio n and the least necessary power. The forged and tempered hammers mulch grass and branches up to 9 cm [3 ½ "] in diameter.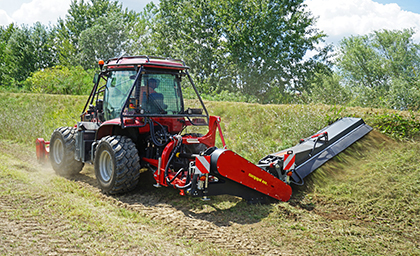 A small support roller positioned under the base is supplied standard. In addition, a large-diameter roller supports the mulcher and facilitates driving on uneven terrain. The position can be adjusted to regulate the cutting height according to need.
With the new L9 flex offsetting mulcher, you can mulch tall grass, branches and brush in any situation!
WEAR PLATE
Long service life of the mulching body thanks to the interchangeable wear plate in tempered steel
HELIX ROTOR
Low power consumption and highest performance with HELIX ROTOR technology
SPACE LINK
Easily follows the contours of the ground thanks to SPACE LINK suspension
FLEX-SAFE
Unrivalled protection against accidental impact thanks to the FLEX-SAFE anti-collision system
PENTALINK
Safe and comfortable connection with PENTALINK stabilisati on system
P SHIFT
Wide side shift thanks to a linkage mechanism

Front hood OPT-317
Easy mulching of thick vegetation with hydraulically adjustable front hood (optional)