SBM tele
boom mounted mulcher with telescopic boom
100-150 HP
Mulches grass and brush up to 5 cm [2"] Ø
Telescopic boom 1,5 m [59"] made of high-tensile steel S420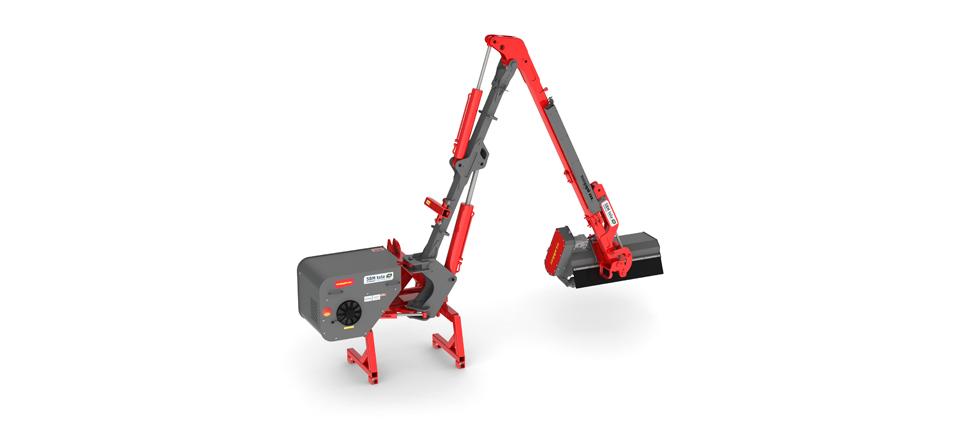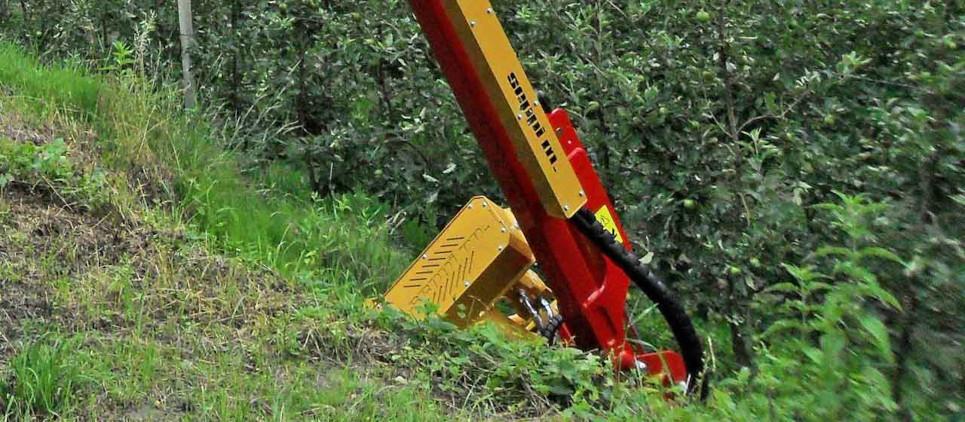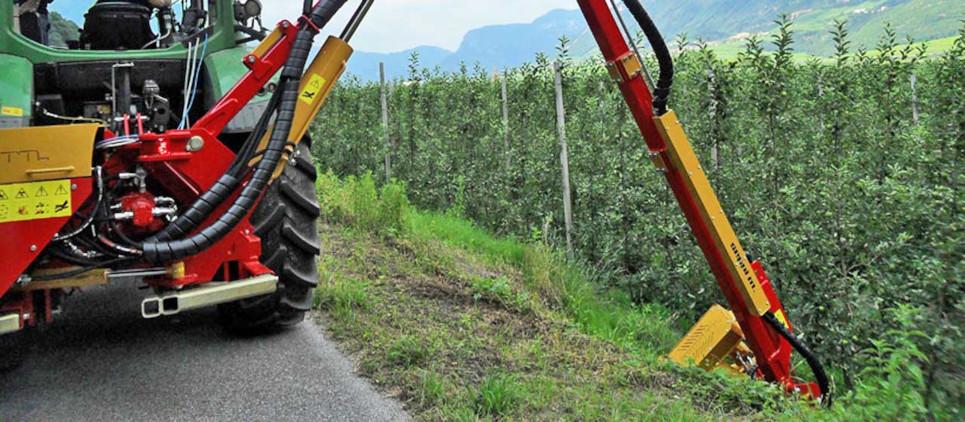 SBM tele is boom mounted SEPPI M. mulcher for PTO drive tractors, highly efficient for mulching in ditches, on slopes and along roadsides.
All critical components are made of special steel S420: extreme durability with minimum weight. Thanks to its ergonomic joystick operation and the exclusive EHS system which adapts the mulching head automatically to the contours of the ground it achieves driving speeds. This allows the operator to quickly react to sudden obstacles and maximize his productivity. Independent hydraulic system with oil cooler 110+80 l/min [29+21 gpm] max. 250 bar [3,630 psi].
Outreach of SBM tele arm is 765 cm [301"]
The SEPPI mulching head suitable for SBM tele boom is the SEPPI flail mulcher H-SMWA-K. The SEPPI mulcher H-SMWA-K is complet reinforced for very demanding working conditions.The maximum renge of the SBM tele mulcher-boom is 7,65 m [301"].
Stability like mounting on a rigit frame, easy mounting and dismounting SEPPI M. presents PENTALIK - 5-point-linkage = 3-point ISO rear linkage with 2 stabilizers.
SEPPI SBM tele is ideal for different types of vegetation management, right of way and road maintenance, land clearing...
SBM tele - STANDARD VERSION
SBM tele with H-SMWA-K head mulches grass and brush up to 5 cm [2"] Ø
Helical rotor with Y DUO flails
Mulching head H-SMWA-K:
· Light weight head made of wear resistant steel AR400
· Reversible rotor rotation
· Inverter with STOPSAFE
· Adjustable support roller to set the height of cut
· Hydraulic breakaway
· Electronic head suspension adapts the contours of the ground with sensor
Boom lenght: 750 cm [295"]
Telescopic hydr. advance of the mulching head: 1,5 m [59"]
PENTALINK 5-point-linkage: 3 point linkage cat. 2 and 3 and 2 additional mounts on axle
Gearbox 540 rpm
Telescopic boom made of high-tensile steel S420
Independent hydraulic system with oil cooler
Oil tank capacity: 120 liter
Hydraulic pumps and closed circuit piston motor with rotor reverse valve; 110+80 l/min [29+21 gpm] max. 250 bar [3,630 psi]
Control unit with DANFOSS proportional valves with joystick
ISOBUS system (temperature, cooling, hour counter) - requires a tractor with ISOBUS terminal (or see optional*)
Front protection: metal flaps
Rear protection: rubber flap
Rear lamp kit
Tractor weight: min 5.000 kg [11,020 lb]
Colors: red RAL3020 · charcoal RAL7021
OPTIONS
PTO drive shaft
3-point ISO linkage + 2 stabilizers
*ISOBUS terminal for ISOBUS-ready tractors
*RETROFIT - ISOBUS compatible system for older tractors