STARSOIL
stone crusher - forestry tiller
180-310 HP
STARSOIL one machine for everything!
Crushes stones up to 30 cm [12"] Ø
Mulches wood up to 40 cm [16"] Ø
2-speed POWESRHIFT system
ISOBUS system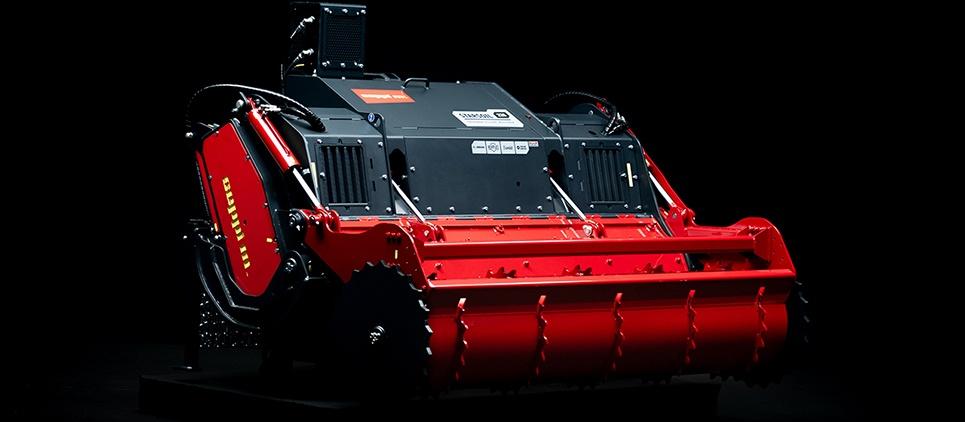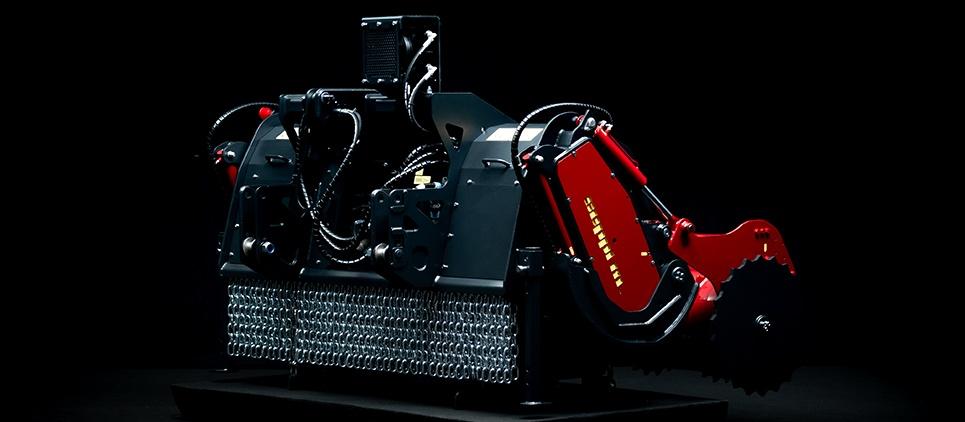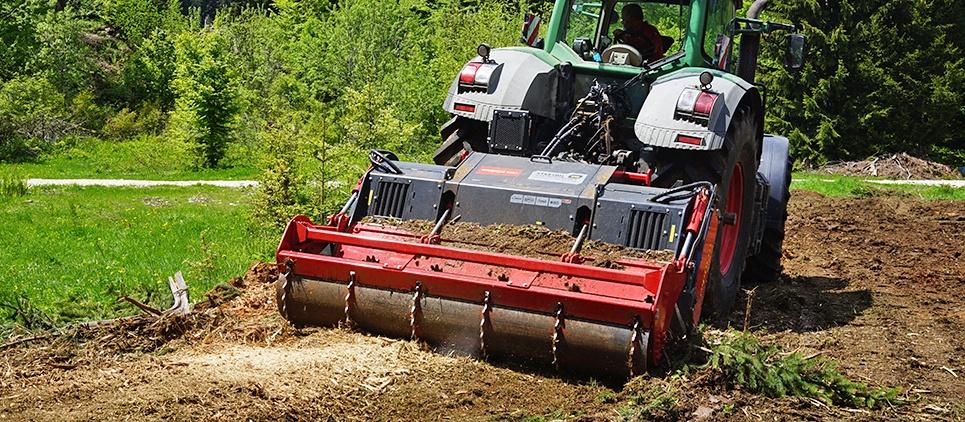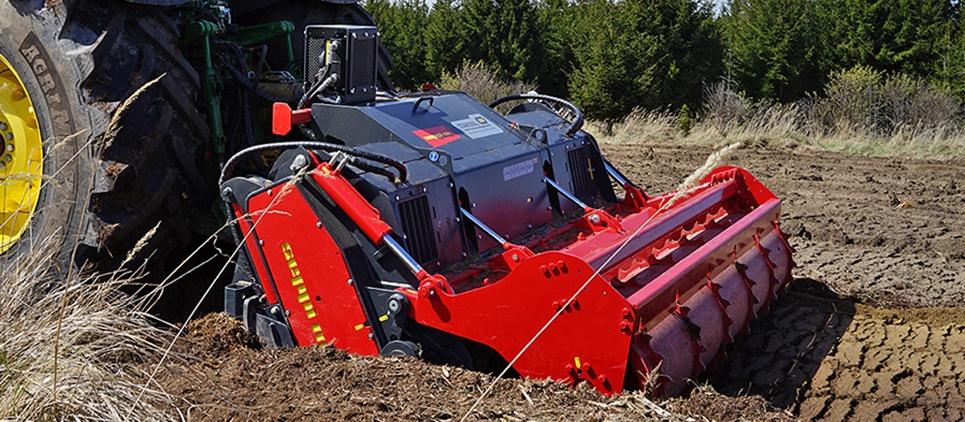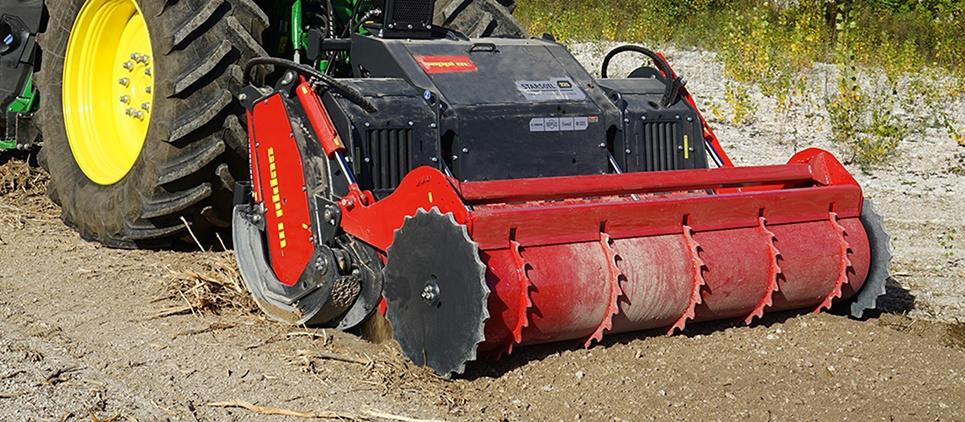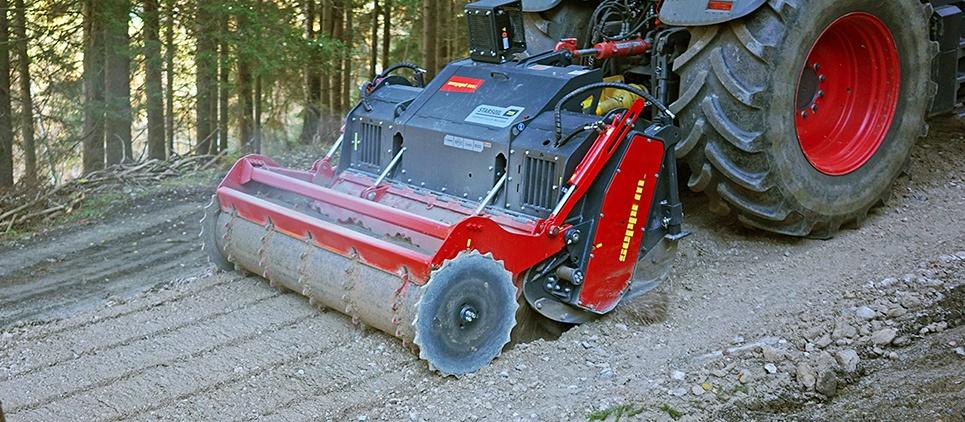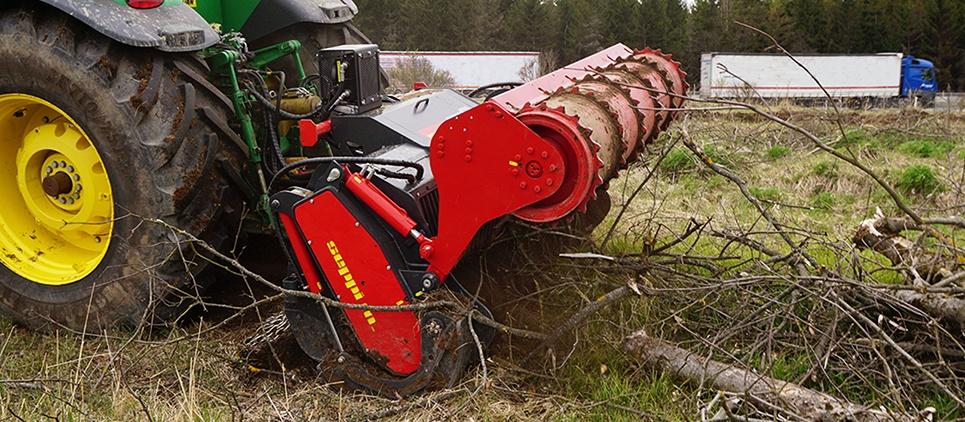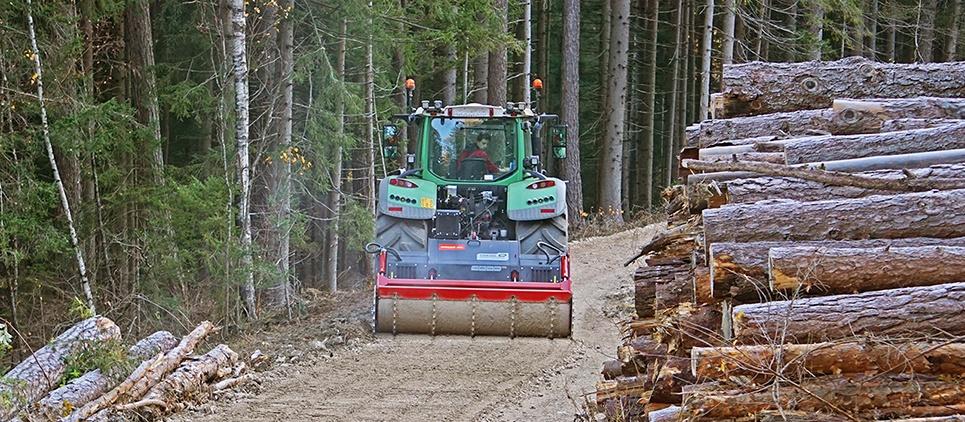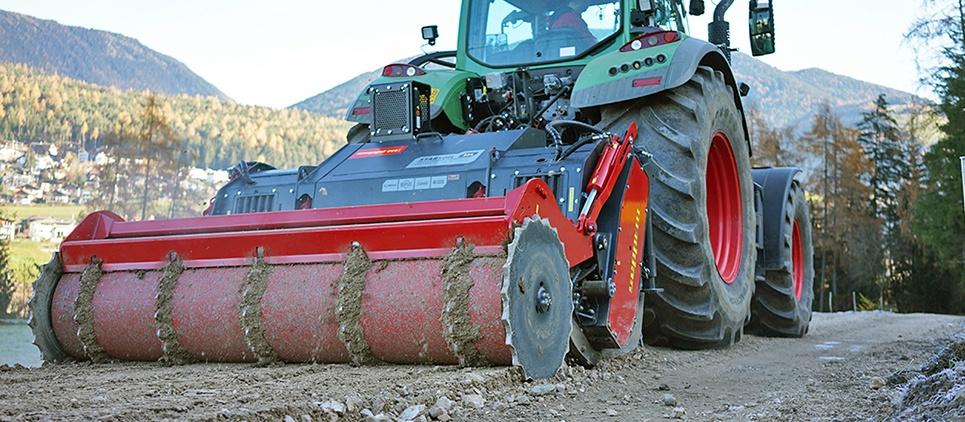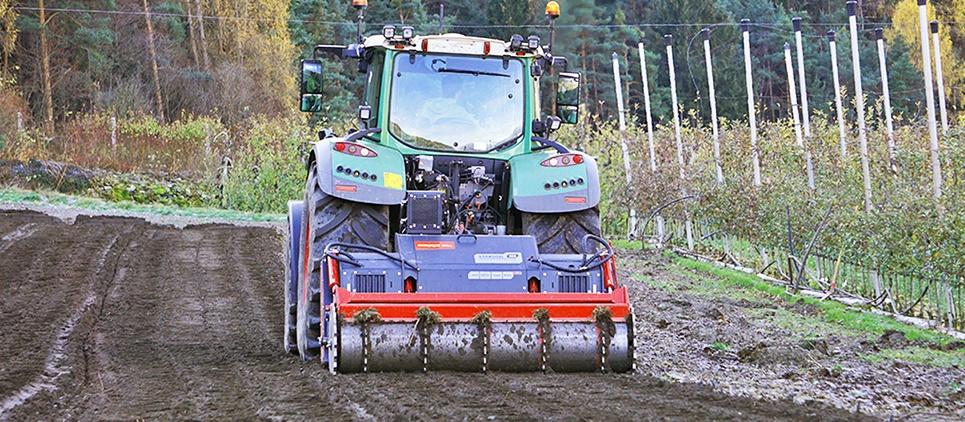 This versatile SEPPI soil tiller and forestry tiller STARSOIL, suitable for tractors with power class between 180 and 310 HP is equipped with a new traction system that simplifies work by ensuring greater efficiency: soil tilling to a depth of 40 cm, crushing stones with a min. diameter of 30 cm and mulching wood with a diameter of 40 cm.
Thanks to the 2SPEED POWERSHIFT system, the rotor speed is controlled directly on the ISOBUS terminal.
The operator can change the setting during operation - fast gear for mulching on the surface - slow gear for working in the ground - the tractor PTO remains unchanged at 1000 rpm. Working at this PTO speed protects the driveline and at the same time ensures better work when mulching wood (in fast gear) and crushing stone and tilling soil (in slow gear).
A further advantage is an integrated cooling system of the lateral gear transmission (standard) and the main gearbox (also combined with the new 2SPEED version). The cooling function can easily be activated from the tractor cab using the control device and the temperature can be monitored constantly through the display. This eliminates the risk of overheating of the transmission. The parallel gear transmission offers reduced width and smaller footprint. The difference between total width and operating width is minimal.
NEW! SEPPI now applies an ISOBUS control system as standard on many of our machines! The ISOBUS socket of the mulcher is connected to the tractor allowing some functions to be monitored and controlled directly by the on-board computer in the tractor.
Basic features of SEPPI STARSOIL: high performance with minimum energy consumption thanks to its lightweight construction, frame covered with replaceable anti-wear plates made of Hardox®. New generation patented rotor V-LOCK with efficient SEPPI hammer combination of the new type, ULTRA MONO PROTECT + MONO & ULTRA MONO EXTREME with additional tungsten carbide inserts at points most subject to wear. A further piece of news is the improvement of the roller which now has a larger diameter and a higher number of toothed rings and is thus able to penetrate the soil more easily, ensuring a smooth movement of the roller. The bearing was reinforced and built into the roller to prevent wear. The new roller scraper allows for the removal of soil residue (very useful in the case of wet soil).
The innovative ADAM cardan alignment system (in standard version), to improve the adaptation of the machine to the soil. This feature of "angular compensation" is used to protect the cardan shaft and the tractor PTO from unnecessary stress caused by differences in soil.
Available working width: 225, 250 cm [89", 98"].
APPLICATIONS:
Crush stones on roads, farms and other areas;
Create and maintain gravel roads;
Maintaining of power and communication lines
Grind building rubble on construction sites;
Rip and remove old layers of tarmac;
Reclaim land for agricultural use;
Improve arable fields and other land;
Prepare soil for (re)planting;
Clear forests after harvesting wood
And much more....
STARSOIL - STANDARD VERSION
Crushes stones up to 30 cm [12"] Ø
Mulches wood up to 40 cm [16"] Ø
Tills the soil as deep as 40 cm [16"] and deeper, depending on the working conditions
Rotor V-LOCK: combination of tungsten carbide inserts hammers ULTRA MONO PROTECT + EXTREME; anti-wear hammer support
Bolt-on-rotor shaft
Working speed 0-2 km/h
Required creeper gear: max. 0,5 km/h
Chassis made of high tensile and wear-resistant steel AR400
with internal replaceable WEAR PLATES
ISO 3-point rear linkage cat. 3 central fixed
Gearbox 1000 rpm with freewheel
Input shaft 1 3/4" Z=20
ADAM alignment system with W-angles central greasing system
Electrical temperature monitoring and cooler control
Double drive with parallel gear transmission, integrated cooling circuit
Integrated torque limiter
Hydraulically operated hood
Narrow in-depth skids
Protection with double chains
2 rows of tempered COUNTER CUTTERS; anvil bar and crushing grid to crush stones
Colors: charcoal RAL7021| red RAL3020
OPTIONAL
PTO drive shaft
2SPEED POWERSHIFT gear with 2 speeds and integrated cooling + ADAM system
ISOBUS control fpr tractors with ISOBUS and terminal
ISOBUS terminal for ISOBUS-ready tractors
RETROFIT - ISOBUS compatible system for older tractors
Hydraulic operated compacting roller STARSOIL II for depth control, may also beused as guard frame incl. roller scraper
Adjustable grader blade, incl. pressure gauge and lateral extension
And other options of choice.