S7 drago
mulcher with collection into trailer
60-120 HP
Would you like to gather the mulch in your orchard? This is the right dragon!
Mulches grass and prunings up to 7 cm [2.8"] Ø
Chute for collecting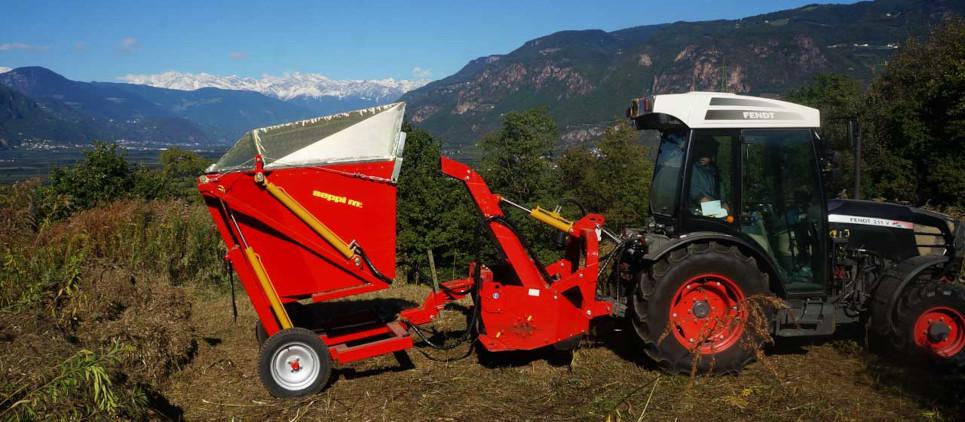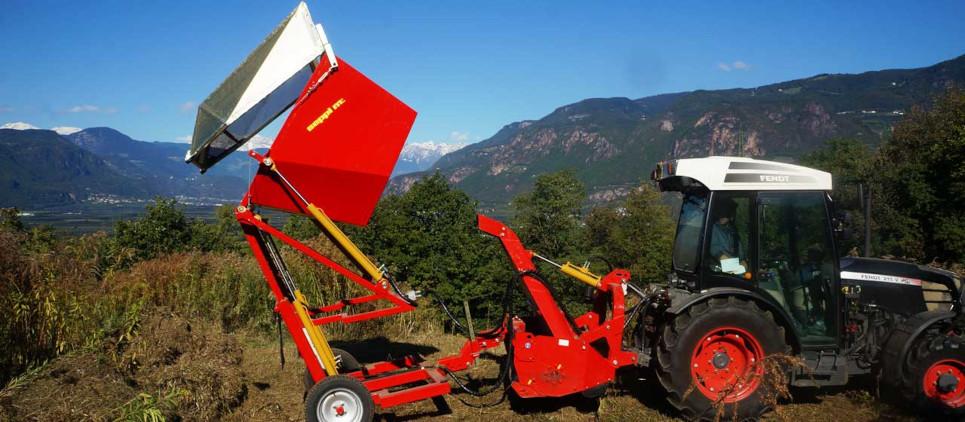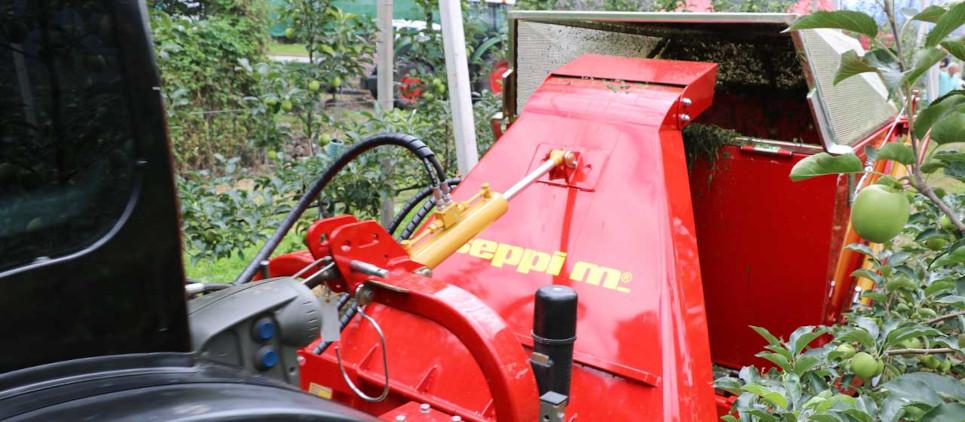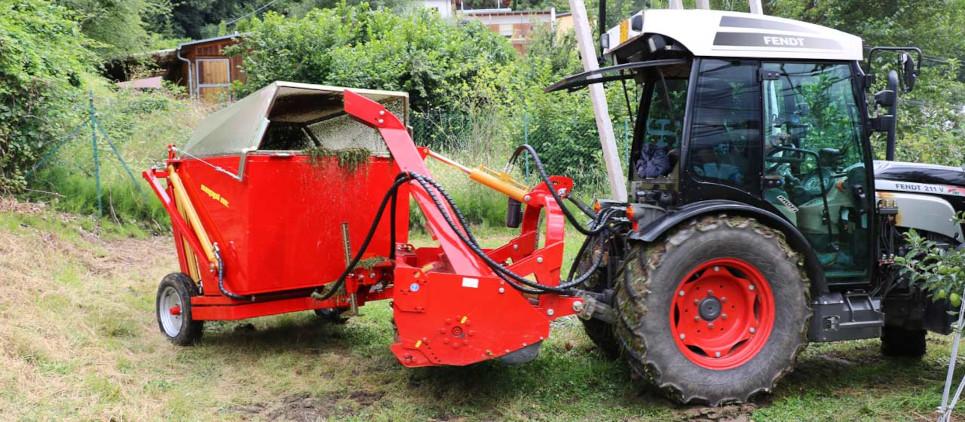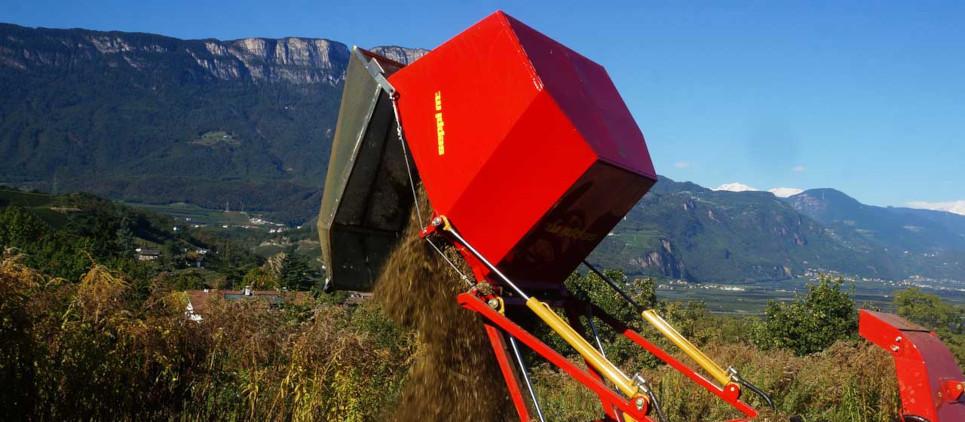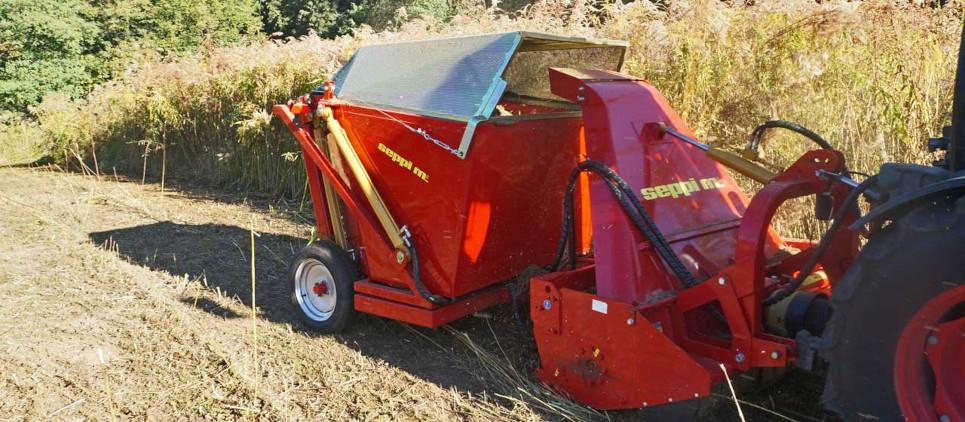 Universal powerful SEPPI M. flail mulcher S7 drago with a chute for collecting the mulching material.
The mulched material is taken up the chute and can then be collected and carted away in a trailer, leaving the soil clear of material. The SEPPI S7 drago mulches grass and prunings up to 7 cm [2.8"] Ø from the floor for further use. Various materials, leaves and biodegradable waste can be mulched and collected. Helical distributed and high resistent SMO flails for universal use are for high cutting quality at uniformly distributed power. SEPPI S7 drago casing is very resistent, made of high-tensile steel S420. Counterknives inside the casing will give a perfect result when mulching. Support roller with double tapered roller bearings unit for a long life and the low maintenance costs. Adjustable large diameter roller positioned close to the rotor improves mulching on uneven ground and prevents scalping.
The optimum aerodynamics and airflow and high suction effect of SMO hammers offer a perfect ejection of mulched material by ejection chute into the collecting trailer. The S7 drago mulcher works at speed of 3-10 km/h.
The SEPPI S7 Drago collection mulcher can be used everywhere where the mulched material (grass, wood, leaves, biomass, cow dung, horse paddocks, ...) should be removed from the surface.
Available working width: 150, 200 cm [59", 79"].
APPLICATIONS
Collection of material in orchards or vineyards
Clearing of site for replanting
Collection of biomass for composting
Environmental clearing in urban areas
Clearing of horse and cow dung
S7 drago - STANDARD VERSION
S7 drago mulches grass and prunings up to 7 cm [2.8"] Ø
Helical rotor with SMO flails
With chute for material collection into trailer
Hydraulically adjustable shute for mulch collecting
Working speed 3-10 km/h
ISO 3-point rear linkage cat. 2 central fixed
Robust chassis made of high tensile steel S420
2 rows of tempered COUNTER CUTTERS
Gearbox 540 rpm with freewheel
4 belt transmission
Input shaft 1 3/8" Z=6
Draw bar
Support roller, adjustable in height, reinforced bearing and roller
Front and rear protection: chains
Colors: red RAL3020 & charcoal RAL7021
OPTIONS
PTO drive shaft
Gearbox 1000 rpm
XAN sweeper
Trailer 150 - 1,5 m3 [90 inch3]
Trailer 200 - 2,5 m3 [150 inch3]